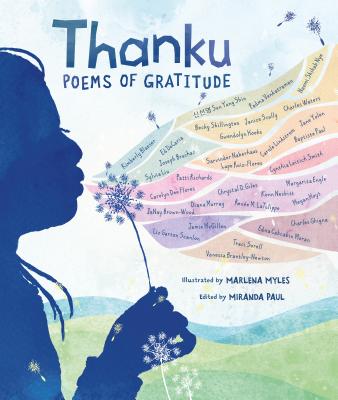 Thanku: Poems of Gratitude
Anthology
Published: 9/3/2019
How do you give thanks?
Gratitude isn't something we need to save up for a special holiday. What are you grateful for right now, today?
This anthology brings together a diverse group of poets who express gratitude for everything from a puppy to hot cocoa to the sky itself. Each writer uses a different poetic form, and readers will encounter a concrete poem, a sonnet, a pantoum, a sijo, and much more.
Contributors include Jamie McGillen, Kimberly Blaeser, Sun Yung Shin, Naomi Shihab Nye, Charles Waters, Janice Scully, Jane Yolen, Traci Sorell, JaNay Brown-Wood, Cynthia Leitich Smith, Margarita Engle, and more. Stunning illustrations from Marlena Myles invite close examination, making this a collection to return to and savor again and again.
Awards & Honors
Lectio Book Award Master List, Long-listed, 2021
Notable Books for a Global Society Notable Book, Winner, 2020
ALA Notable Children's Books, Winner, 2020
NCTE Notable Children's Book in the Language Arts, Winner, 2020
Children's Book Committee at Bank Street College Best Children's Book of the Year, Winner, 2020
Chicago Public Library Best of the Best Books, Winner, 2019
Praise for Thanku: Poems of Gratitude
"Beautifully written and illustrated, this book reminds us that there are many simple things in life for which we can be grateful every day. It's also a fantastic tool for teaching young children about different forms of poetry. A delight!" ― Cath T.
"Lovely lyric lessons in appreciating the ordinary." — Kirkus Reviews
"[T]his attractive and accessible collection should be popular with browsers and useful for creative writing classes." — Booklist
"[A] thoughtful resource for poetry students and teachers." — Publishers Weekly